Founding Spirit
Growing into trustworthy human beings
Our educational foundation is based on nurturing human beings who sincerely make relentless efforts in academics and research and devote themselves to their formation and growth as human beings.
The founding spirit when the university was first established in 1966—growing into trustworthy human beings—has been passed down till today, where we recently celebrated our 50th anniversary.
Our university endeavors to nurture human resources who acquire "sophisticated expertise" and the "spirit to contribute to society" through practical learning. This is intended to complete commerce education and nurture human resources with a "sense of mission" and "responsibility" who can fulfill delegated responsibilities.
We set our Diploma Policy (graduation certification and degree conferment policy), Curriculum Policy (curriculum formation and implementation policy) and Admission Policy (enrollment policy) as follows.
Diploma Policy
Based on the Fundamental Law of Education and School Education Law, Yokohama College of Commerce will certify graduation and confer the Degree of Commerce to students who understand the founding spirit of "Grow into trustworthy human beings" and have acquired the following qualities, skills and completed required credits.
1. The skills to acquire knowledge (knowledge and understanding)


Acquired a wide range of education and morals that are required in the globalized society and also acquired sophisticated expertise and technique that are the foundation of each Department.

2. The skills to identify and solve problems (thoughts and judgement)


Able to identify, analyze and logically think and solve the problems faced by modern society where diverse values co-exist.

3. The skills to communicate (knowledge and technique)


Able to listen to others who have diverse values in the globalized society and express their thoughts verbally and in writing to communicate.

4. The skills to contribute to society (attitude, motivation, interests)


Able to aspire to contribute to society and act as a good citizen and business person.

5. The skills to collaborate (attitude)


Able to work at their own initiative and cooperate with others.

6. The skills to employ sophisticated expertise and technology (thoughts, judgement)


Able to employ knowledge and technique in situations where such are required as an independent professional.
Curriculum Policy
Based on the founding spirit, Yokohama College of Commerce offers Commerce, Tourism Management and Management and Information Departments in the Faculty of Commerce in order to nurture business persons who possess skills and expertise mentioned in the graduation certification and degree conferment policy (Diploma Policy). Our college forms and implements educational curriculum following the policies as below.
Educational curriculum formation policy
1. Students acquire basic knowledge of business and its management. They cultivate professionalism and nurture communication and collaboration skills. In order to establish knowledge and develop the skills necessary to start a business and projects in real society, "Basic Skills as Working Professional Program" and "Undergraduate Basic Skills Program/Expertise" classes are offered.
2. "Undergraduate Basic Skills Program/ Comprehensive Basics" courses are offered in order to properly identify the demands of time in real society and acquire a wide range of education and moral which become the starting point for seeking "what should be done" as a good citizen and business person.
3. In order to nurture systematic sophisticated knowledge and the logical thinking ability that are required to succeed as a business professional, "exclusive program" classes are offered in each Department.
4. The "Frontier Program" is offered to nurture the ability to function as an immediate asset and identify problems on site and solve them through experience gained in practical and interdisciplinary classes that connect real business to expertise knowledge.
5. "Project Study Program" classes are offered to integrate acquired knowledge and techniques to nurture problem-solving skills, society-contributing actions and attitudes.
Implementation Policy
6. The purpose and achievement goals of the class, relevance to graduation certification/degree conferment policy (Diploma Policy), class planning and academic assessment criteria are clarified and made well known in each class.
7. In order to nurture the skills to proactively identify problems, cooperate to solve them and communicate their opinions to others, a proper class environment that accommodates diverse educational methods is maintained, and class formats and instructional methods will be devised, such as introducing active learning.
8. Study, volunteer work and internships that involve local companies and NPOs are proactively implemented in order to enhance the students' attitudes and motivation to contribute to society.
9. The lecture management system is employed to improve the bi-directionality of the class while accumulating projects created using laptops to help both faculty and students to reflect.
10. Focusing on the learning process based on the degree conferment policy, enrolled students' learning status is checked and evaluated through course completion, grades, class evaluation questionnaires and student surveys.
Admission Policy
Yokohama College of Commerce seeks individuals who understand our graduation certification/degree conferment policy (Diploma Policy) and policy for educational curriculum formation and implementation (Curriculum Policy), and also who are complete with the following six elements of knowledge, technique, attitude and motivation.
1. Individuals who are complete with basic education, culture and language communication skills as a high school graduate.
2. Individuals who have proactively acquired knowledge and techniques outside of high school curriculum.
3. Individuals who possess a clear sense of purpose and are motivated to contribute to society.
4. Individuals who are motivated to play an active role in the business and management fields.
5. Individuals who possess a positive attitude to make plans and cooperate with others to solve problems.
6. Individuals who can judge situations based on their knowledge and experience and logically explain them.
History
With the westernization during the Meiji era, Yokohama began to change dramatically. Yokohama has always been a center of commerce. The city at the time was the first location where a railroad was founded and was the birthplace of a daily newspaper and photographs. Even today, Yokohama never ceases to attract attention as a pioneer in the areas of business, design and tourism as a result of development in the Minatomirai district.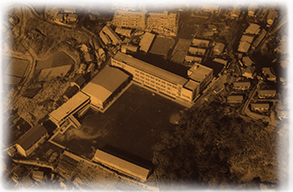 Our college opened in 1966 as the predecessor Yokohama Shoka Junior College and shifted to the current three-department system in 1974. Over the half century since its establishment, our college has consistently aspired to complete commerce education and endeavors to create graduates ready to function as valuable human resources.
Timeline
January 1941

Yokohama Daiichi Shogyo High School (Currently: Yokohama College of Commerce High School) was established in Higashiterao in Tsurumi-ku, Yokohama.

April 1966

Yokohama Shoka Junior College was established. (Closed March 1969)

April 1968

Yokohama College of Commerce was established. (Currently: Tsurumi Campus)
(Trading, Management, Accounting Information, Commerce courses were established in the Department of Commerce)

June 1972

Opened the electric computer room.

April 1974

Shifted from 4 Commerce Courses to 3 Departments (Commerce, Trading/Tourism, Management and Information).

July 1982

"Yugawara Academic Research Center" opened in Yugawaramachi, Ashigarashimo-gun, Kanagawa

March 1985

Concluded an academic and cultural exchange agreement with Beijing International Studies University.

April 1995

Opened Midori Campus. LAN services between campuses became available.

December 1998

Concluded an academic and cultural exchange agreement with University of Pittsburgh at Bradford.

September 2000

Multipurpose athletic ground was completed at Midori Campus.

April 2001

Joined the credit transfer system among universities in Yokohama City.

September 2002

Library system was transferred to LIMEDIO.

February 2003

Concluded a credit transfer agreement with Open University of Japan.

December 2003

Concluded credit transfer agreements with Sapporo International University in Hokkaido and Meio University in Okinawa.

August 2009

Concluded an academic and educational exchange agreement with College of Hotel and Tourism Management at Kyung Hee University.

January 2011

Concluded an academic and cultural exchange agreement with Kempten University of Applied Science.

December 2013

Concluded an academic and cultural exchange agreement with South China Business College at Guangdong University of Foreign Studies.

April 2014

Concluded an academic and cultural exchange agreement with Suzhou Polytechnic Institute of Agriculture.

November 2014

Concluded a cooperation agreement with Kinki Nippon Tourist in human resource development in the tourism field.

March 2015

Concluded a comprehensive partnership agreement with Tsurumi-ku, Yokohama City.

April 2015

Concluded a cooperation agreement with Oguchi Shotengai in revitalization of shop street and regional vitalization.

April 2015

Trading and Tourism Department was reorganized and re-established as Tourism Management Department.

April 2016

50th anniversary of Yokohama College of Commerce
Education Policy
1. Acquisition of knowledge as a highly-skilled professional.
2. Maintenance of sophisticated logical standards.
3. Acquisition of a strong sense of mission and responsibility toward the profession.
4. Nurturing a strong volunteer spirit.
Message from President
Let your talent bloom with the acquisition of the latest social sciences.
What kind of lifestyle will people have twenty or thirty years later where you play a major role in the society? Robots with artificial intelligence may be operated everywhere in stead of human beings. Even in such a world, business will not be disappeared, but rather will keep expanding. It is because business is one of the cutting edge social sciences that quickly catches and takes in things needed in the society and spreads them to make people happy. At the Faculty of Commerce, you can learn knowledge and skills that are directly linked to business that expands with the times in wider field than the Faculties of Economics and Management.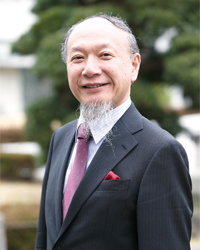 At Yokohama College of Commerce, the curriculum was redesigned in 2015 and reconstructed into educational programs where students can further nurture basic education and improve social skills, such as communication skills, to acquire expertise, so that they can make their dreams come true and enjoy a meaningful life. I am certain that studying at our college will help allow your personality to shine and bloom with better talent than others to become trustworthy individuals who can play an active role in the globalized world. Let us take flight to the future filled with infinite possibilities.
Masato Kobayashi
President